Venoseal – Glue treatments Memphis
Memphis Vascular Center is now proud to offer Venoseal treatments for Varicose Veins.
This new type of treatment is called Venaseal.  It uses a catheter directed dose of a specially formulated medical adhesive to seal or close of the veins that are diseased.  This process of closing the vein, helps the body re-route the blood up healthy veins and this will help reduce symptoms quickly.  This will also allow the varicose veins to shrink and go away over time.  This new treatment type for varicose veins has many advantages.
Such as:
Simple, outpatient procedure
No tumescent anesthesia (fewer needle sticks)
Less pain and bruising than thermal ablation
Faster recovery time than thermal ablation
Compression stockings not needed after the procedure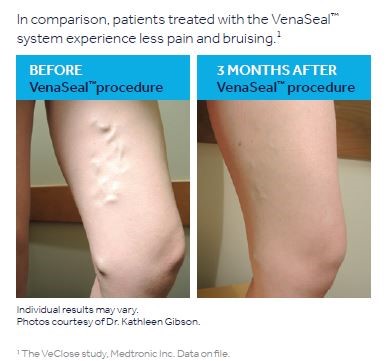 For more information about varicose veins and venous disease please click here.
For more information about varicose vein treatments Memphis Vascular Center offers at our Memphis location, please contact us at 901-683-1890 or  schedule an appt here.
Dr Jon Roberts and Memphis Vascular Center was the FIRST nationally accredited Vein Center in the Memphis.  Come experience exceptional care for your venous disease and vein treatments.