Varicose Vein Ablation Treatments in Memphis, TN
We Offer Varicose Vein Treatments with No Downtime.
Dr. Jon Roberts offers varicose vein treatments in Memphis.  Dr. Roberts is board certified in interventional peripheral vascular care.  This minimally invasive treatment is an outpatient procedure performed at our office.  Dr. Roberts uses ultrasound during the procedure to see the vein that needs to be treated.  Once the vein to be treated is identified, Dr. Roberts will numb the area using lidocaine on the skin.  Dr. Roberts will then insert a small tube, about the size of a small straw, into the vein and directs it up the vein to be treated. Then laser or radiofrequency energy is applied to the inside of the vein.  This will cause the inside of the varicose vein to heat up and will begin to shrink and close.
Reflux within the unhealthy varicose veins lead to pooling in the visible varicose veins below. When the unhealthy vein it treated, the twisted and varicosed branch veins, which are close to the skin, shrink will improve visually over time. Once the treated varicose vein is closed, other healthy veins take over to carry blood from the leg, re-establishing normal flow.  As the healthy veins start moving the blood out of the leg, your symptoms will start resolving in just a few days after the procedure.  It will take longer for the cosmetic appearance of large veins to decrease in size.
If you would like more information about varicose veins click here or call us at 901-683-1890
Download the Laser ablation brochure for the Memphis Vascular Center for more information:
Benefits of Vein Ablation Treatment
The treatment takes place in our Memphis office, lasts about 30 minutes, and provides relief of symptoms.
You can return to your normal routine the same day with little or no pain.
There may be minor soreness or bruising, we will prescribe you a pain reliever in the office.
The procedure does not require stitches and does not leave a scar .
93-95% successful treatment rate.
The procedure is done as an outpatient treatment at our office near Memphis, TN in Germantown.
Varicose Vein treatment success
The success rate for treating varicose veins using ablation ranges from 95-97 percent.
Photo Gallery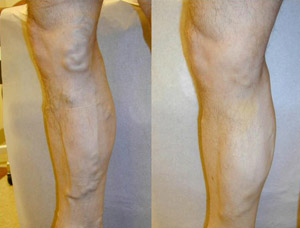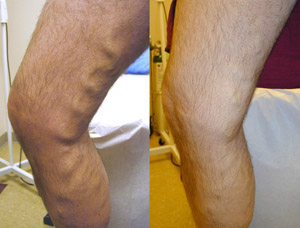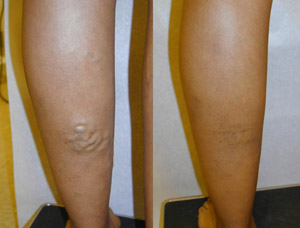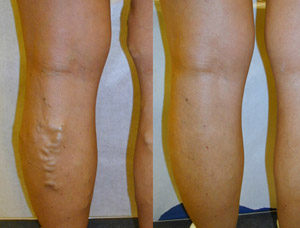 Images above are before and after pictures of varicose vein treatments using the laser ablation offered at the Memphis Vascular Center near Memphis, TN in Germantown.